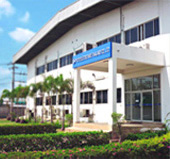 เราคือบริษัทผู้ผลิตสายไฟคุณภาพสูง ภายใต้การควบคุมการผลิตที่แม่นยำเที่ยงตรง และผลิตภัณฑ์ของเรานั้นก็ได้รับมาตรฐานระดับสากล เป็นที่ยอมรับและส่งออกไปสู่หลายประเทศ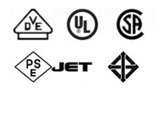 >>Standard info<<


Safety consulting and certification company headquartered in Northbrook, Illinois. It maintains offices in 46 countries. UL was established in 1894 and has participated in the safety analysis of many of the last century's new technologies, most notably the public adoption of electricity and the drafting of safety standards for electrical devices and components.
UL provides safety-related certification, validation, testing, inspection, auditing, advising and training services to a wide range of clients, including manufacturers, retailers, policymakers, regulators, service companies, and consumers.
UL is one of several companies approved to perform safety testing by the US federal agency Occupational Safety and Health Administration (OSHA). OSHA maintains a list of approved testing laboratories, which are known as Nationally Recognized Testing Laboratories.
Not-for-profit standards organization which develops standards in 57 areas. CSA publishes standards in print and electronic form and provides training and advisory services. CSA is composed of representatives from industry, government, and consumer groups.
CSA began as the Canadian Engineering Standards Association(CESA) in 1919, federally chartered to create standards. During World War I, lack of interoperability between technical resources led to frustration, injury, and death. Britain requested that Canada form a standards committee.
CSA is accredited by the Standards Council of Canada, a crown corporation which promotes efficient and effective standardisation in Canada, as a standards development organisation and as a certification body. This accredition verifies that CSA is competent to carry out these functions, and is based on internationally recognised criteria and procedures.
The CSA registered mark shows that a product has been independently tested and certified to meet recognized standards for safety or performance.
The VDE is the Association for Electrical, Electronic and Information Technologies and their related sciences, technologies and applications. As the voice for these key technologies in Germany, the VDE works to foster a better climate for innovation, ensure the highest safety standards, promote optimal engineering curricula, and encourage a broader public acceptance of new technologies. The Association's organization and functions are unique worldwide: The VDE combines a broad spectrum of scientific activities with work on industry standards and product testing under one roof. Focal points of VDE's work include developing safety standards for electrical and electronic products, preparing technical regulations as national and international standards, and testing and certifying electrical products, equipment and systems. The VDE Testing and Certification Institute, headquartered in Offenbach, Germany, is among the world's most prominent independent testing organizations for electric and electronic products. At the Institute's global network of testing and certification centers, over 500 highly qualified employees conduct around 100,000 tests annually for national and international manufacturers. Virtually every electrical product used daily by the public in Germany and elsewhere – ranging from electric toothbrushes to stoves, washing machines and IT products – is tested and certified by the Institute. The VDE mark, familiar to 68 percent of the German public, is considered to be the symbol of highest safety standards. Worldwide, around 200,000 products bear the respected VDE mark.
The Electrical Appliance and Material Safety Law was established for the purpose of regulating the manufacture, sales, etc., of electrical appliances and materials and of fostering voluntary activities by private enterprises to ensure the safety of electrical appliances and materials so as to prevent hazards and trouble caused by the electrical appliances and materials.
The products subject to the regulations of this law refer to the 454 items stipulated by Cabinet Orders, including 115" specified electrical appliances and materials" which, depending on their construction, methods or other conditions of use, pose a serious threat of electric shocks, fire and/or other hazards and trouble.
Enterprises engaged in the business of the manufacture or importation of products classified as" electrical appliances and materials" are obliged to notify the Minister of Economy, Trade and Industry of the commencement of their enterprise and conform to the technical standards and fulfill other duties, and only those enterprises who have fulfilled these obligations including notification are allowed to display the "PSE" abels as evidence of the fact that they have followed the procedures according to the law.
It is absolutely essential for manufacturers or importers of" Electrical Appliances" to follow the appropriate steps and fulfill the imposed obligations, since the sale of any Electrical Appliances and Materials that are not labeled according to the Law is prohibited in Japan, and penalties are levied and other punitive actions are taken if the procedures are not carried out.
The Thai Industrial Standards Institute (TISI) has been established as a department under the Ministry of Industry since 1 January 1969 by virtue of the Industrial Product Standards Act B.E. 2511 (1968). Its principal responsibility is to carry out national standardization activities in order to promote the development of Thai products to the acceptable quality, to increase the competitiveness of Thai industry in the world market, and to preserve the environment as well as to protect consumers by ensuring safety in lives and property.